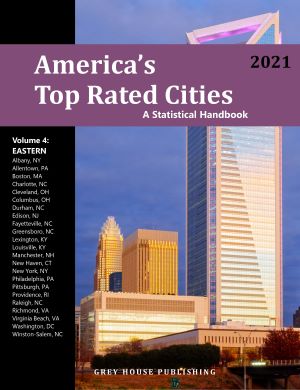 America's Top-Rated Cities
America's Top-Rated Cities provides current, comprehensive statistical information and other essential data in one easy-to-use source on the top 100 cities that have been cited as the best for business and living in the United States.
This new edition has been completely updated with new cities, new rankings, and many new statistical topics.
City Reports incorporate information from hundreds of sources to show, at a glance, a concise social, business, economic, demographic and environmental profile of each city.
Statistical data covers cost of living, finances, taxes, population, commercial real estate, education, major employers, media, crime, climate, housing vacancies, tax audits, bankruptcy, presidential election results and more.
Arranged into four regional volumes for easy use.
Comparative Statistics for 40 categories allow for easy comparison and trend-spotting.
Includes four Appendices: Chambers of Commerce, State Departments of Labor and Employment, Historical Metropolitan Area Definitions and Current Metropolitan Area Definitions
America's Top-Rated Cities is designed for a wide range of readers: private individuals considering relocating a residence or business; professionals considering expanding their business or changing careers; government agencies; general and market researchers; real estate consultants; human resource personnel; urban planners and investors. This outstanding source of information will be widely useful in any reference collection.
Buyers of the 2021 Four-Volume Set Get FREE ACCESS TO TOP-RATED CITIES ONLINE
Download City Reports
Sort & Rank Cities by 50+ Data Points
Customized Ranking Tables
Quick & Easy City-by-City Comparisons
Library subscribers can add a link to this title on their Salem Press platform, so users can connect to this content from their Salem Press page too!
You can Also Order the 2021 Volumes Individually
Volume 1: Southern | 978-1-64265-823-1 | $125 | Add to Cart
Volume 2: Western | 978-1-64265-824-8 | $125 | Add to Cart
Volume 3. Central | 978-1-64265-825-5 | $125 | Add to Cart
Volume 4. Eastern | 978-1-64265-826-2 | $125 | Add to Cart
---
You Can Also Order the 2020 Volumes Individually
Volume 1: Southern

ISBN: 978-1-64265-455-4

List Price: $125

Volume 2: Western

ISBN: 978-1-64265-456-1

List Price: $125

Volume 3: Central

ISBN: 978-1-64265-457-8

List Price: $125

Volume 4: Eastern

ISBN: 978-1-64265-458-5

List Price: $125
---
---